Gyeongbokgung Palace (27): main palace of Chosun Kingdom + National Folk Museum
Insa-dong (24): popular art and antique district
Deoksugung Palace(2): royal guard ceremony (at 11:00, 14:00, 15:30 every day except for Monday)
Cheonggye Plaza (31): artificial river between buildings
Jogye-sa (34): if you are interested in temples
Namsangol Hanok Village (13): traditional fork viallage
Namsan Seoul Tower (16): marvelous and beautiful view of Seoul
Myeong-dong (12): trendiest shopping area young people like
Namdaemun Market (3): one of Korea's largest wholesale markets, busy and active
Dongdaemun Market (20): Korea's largest wholesale and retail shopping for clothes and more, active at night
Southern region of the map below
National Museum of Korea: huge museum about Korean history
War Memorial: about Korean war and weapons
Itaewon: markets for foreigners
Coex: modern Korea
Seoul City Bus might be a good choice to see all these.
Central Area of Seoul (Google Map)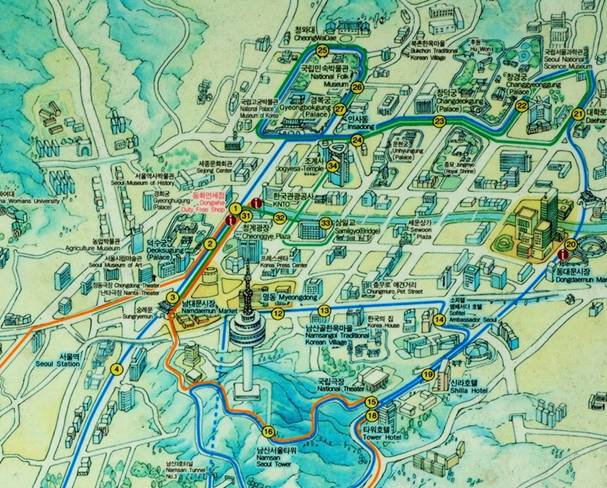 Sightseeing in Seoul reviewed by Prof. Jozef Gruska
1. Gyeongbokgung place.
Huge, very interesting.
Highlight; Gyoenghoeru pavilon in the middle of a pond
Highlight - National Folk Museum - especially an illustration of
thousands ways of making kimchi
2. Changdeokgung palace
World Heritage palace - you have to take an (English speaking) tour
Highlight - Biwon - Secret garden, beautiful and poetic
3. Dongdaemum market
A world unique huge wholesale and retail shopping area. Very busy.
Best way to go there is in the late evening. Likely after midnight
4. Korean folk village
Huge area full of surprises, excellent place to be in
Highlights (for me); illustration of thousands year old floor
heating systems
5. War memorial museum
Huge and impressive, by design and also by content.
Much broader and more interesting than the name indicates
Highlight: A special ship that helped to protect Korea from an invasion
6. National museum
Huge, quite new, impressive
7. Olympic park
Very enjoyable. One can see very nice sport pavilons, to have nice
walks in a nice nature and see a lot of nice huge sculptures in the
park and also several art galleries/exhibitions.
8. National theater or Nanta theater or Cheongdong theater
I want to see one of them.
9. Insadong
Pleasant shopping and eating street full of shops of (folk) art products
Highlight: restaurant (Sanchon) with buddhist monks food (and small dancing show)
10. Itaewon
Busy shopping area.
Highlight: suits making shops - in 2-3 days
Extra: to have dinner in one restaurants from which you can see Seoul
at night with hundreds of red neon crosses on the top of churches
A Brief Personal Guide to Seoul and Korea by Prof. Hai-Woong Lee
* Royal Palaces
I remember that, when I first visited the Forbidden City in Beijing, I was overwhelmed by its size. Korean palaces are much smaller in size, but they have their own "small" beauties with gardens, pavilions and ponds. Among many palaces, the three best are Gyeongbok Palace, Deoksu Palace and the Secret Garden (Changdeok Palace). The Secret Garden offers three daily English tours. Each palace has an entrance fee of about three U.S. dollars.
* Insa-Dong
Two or three blocks of narrow street lined with antique stores, small galleries, and Korean traditional restaurants and tea houses. I remember that I took some visiting physicists to this place in the past and they loved a small tea house offering Korean traditional teas.
* Itaewon
A multi-cultural town full of delicious foreign foods and shops. You can see many foreigners on streets here and communicate in English in restaurants and shops. The Thai, Bulgarian, Mexican, and Italian restaurants I tried here are excellent. Plan to spend fifteen to twenty five U.S. dollars a person in restaurants here.
* Kyobo Bookstore
This may be the largest bookstore in the world. Most of the books in the store are Korean books, but it also has English and Japanese books and magazines.
* War Memorial of Korea
This museum contains a memorial to those lost in the Korean War and exhibits related to Korea's military history, as well as an outdoor display of tanks, war planes, etc. I once visited this place only to see some special exhibition held at that time. This must be a nice place, because Jozef Gruska, who surely knows Seoul better than I, likes it.
* Korean Folk Village
This outdoor village of Korean traditional houses is located ~30km (1/2~1 hour of drive) south of Seoul. A good place to visit if you want to experience Korean traditional culture and lifestyles centuries ago. It has daily performances of a Korean traditional wedding ceremony, acrobats, music, and dance.
* Korean Food
There are many Korean dishes I can recommend, but I here name just two. The first is "Galbi", grilled short ribs prepared in Korean style. It can be made with beef or pork, but try beef (cost: ~30 U.S. dollars). The second is "Bulgogi", slices of beef barbecued in Korean style (cost: ~20 U.S. dollars).
* Performances
Two famous nonverbal performances known to be popular among both Koreans and foreigners are Nanta (a performance integrating Korean traditional rhythm with comic and drama, ticket:~50 U.S. dollars) and Jump (a performance of spectacular martial arts and acrobatics with a comic story set in an average Korean home, ticket:~40 U.S. dollars). If anybody wants to go see either one, please let me know. I have seen neither, and I want to go see them myself.
There are usually many good concerts, art exhibitions, etc. in Seoul. Those that I would recommend that are held during AQIS'08 are a classical music concert by European Union Youth Orchestra conducted by Vladimir Ashkenazy on Aug. 27, a concert by the Japanese new age pianist Yuki Kuramoto on Aug. 26, an exhibition of the work entitled "Ocean Without a Shore" of the famed video artist Bill Viola, and a popular rock musical "Line 1" made in Korea and sung in Korean (with English subtitles on Wednesdays, Fridays, and Sundays).